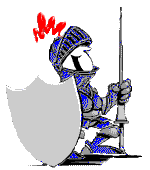 Add a message : Dark Blue Knight
There are now 680 messages in our guestbook.
<<< 1 2 3 4 5 6 7 8 9 10 11 12 13 14 15 16 17 46 >>>
Viewing messages 91 to 105.

Bessie | E-Mail | Web Site
Love your websets. Keep up the good work.

18 July 2009 - AZ/USA
---
Webmaster comments Thank you for your lovely comments and I apologise for taking so long to aprove this entry. I was without Internet acces for a few days.
Shy | E-Mail | Web Site
Dear Eddie,
So good to hear from you again and read your beautiful poems. You have truly been missed. I have empathy for your ailments. I tell you when you have major back problems it's a 24/7 event. I am happy that you felt up to being online to send out the update. Take good care of yourself and don't overdo.

You and Sharon are in my prayers,
Love, Shy

14 May 2009 - USA - North Carolina
Bohannon, Mary | E-Mail | Web Site
I enjoy reading about other Christians' experience.

28 April 2009 - Memphis, TN
Jo Pilgrim | E-Mail
A beautiful sight. I enjoyed it every much. Is there a way to use these as a background for powerpoint? We use it with our music at church.
Thank you,

27 April 2009 - Heflin,Louisiana USA
Dot | E-Mail | Web Site
Great poems Eddie with wonderful messages of how we should all live our lives. I'm so sorry your pain didn't subside and I'm really very sorry you are in so much pain all the time now. Richard and I think of you and Sharon often.

25 April 2009 - Country Qld
Lynette | E-Mail
This is awesome

25 April 2009 - Trinidad
Marlene | E-Mail
This was sent to me in Australia by a friend in USA. I am sorry I have never read any of your other poems, but would dearly love to. The one about our ANZAC's is extremely moving and I will be forwarding it on to old diggers . Thank you again

25 April 2009 - Australia
Marlene Mitchell | E-Mail
How wonderful that someone has been so good in putting down the poem. I feel it tells the story so well, as I had 2 great uncles who were left on the shore of Gallipoli

25 April 2009 - Australia
jeannie | E-Mail
I always enjoy your pages. they touch my heart. God Bless you and your family. Hugs Jeannie

24 April 2009 - USA
Kevin Duffy | E-Mail | Web Site
Eddie,I have read alot about you and the poems you wrote,some sad,some happy but very interesting. Your site is like a magnet, I could not stop reading,you covered the wars,the people,the police,firefighters,the couragous men and women who serve (d) in your country including your allies. You are blessed with the excellent talent to write such beautiful poems,thank you so much for sharing them. My thoughts and prayers go to you,your wife and relatives and the people of your great country who are facing natural disasters among many other things we too in the U.S.A. face,again thank you very much for your sharing,Sincerely,Kevin.

4 April 2009 - Iowa-U.S.A.
William H. Acebes CSM USA (RET) | E-Mail
Though the author is unamed the voice speaks for all who served.
I remember the Gallant Men of 1 RAR 1965-1966 we served togeather 1/503 173 ABN BDE (SEP)

17 March 2009 - Midway Georgia
Carolyn | E-Mail | Web Site
Hi Eddie,
I have been keeping you in my prayers for your surgery.
I know how painful back sugery is and takes time to get over the legs hurting so much. Please don't try and sit too much.
I also wanted to tell you how much I enjoyed all your new poems. You sure wrote some wonderful words before you had your surgery. But now when you feel better, and we pray you will soon. You can write more in your spare time. Your graphics are really so very nice, you have come so far making them. Also the poem about the fires, so sad and yes tears come with any tragedy. My son was a fireman for many years and it is sad for them as they fight the fires, and hard work.
I am going to get some of your sets now. Thank You so much for remembering the 50s.
God Bless You Eddie and My thoughts and prayers will continue.
Blessings to your wife and Coen too.
Carolyn

9 March 2009
Melva | E-Mail | Web Site
Hi Eddie,
I wanted to say hi and to tell you that you are in my prayers and in my thoughts....Praying all is going well for you today and this surgery will be successful...
I am back looking for a zip folder that I didn't get yesterday...
God is with you my friend,
Melva

3 March 2009 - USA
Ann Marie | E-Mail
Good Evening Eddie, I have read your latest update & was totally delighted with all of the wonderful new poems. My two favorite ones were, "Not Things That Make You Cry" Very well written & thought provoking. The First poem.."I Refuse" spoke to me & in light of your pain & future surgery I repeat from your poem (No matter what the obstacles are ..I will refuse to simply give up. Stay with that attitude & may God bless you with a quick recovery my friend.

3 March 2009 - Alabama,U.S.A.
Dot | E-Mail | Web Site
Eddie the poems are amazing and I was so excited when I discovered that they were all new ones. Well done Mate. I loved the sets and the music to go with each poem too, what a wonderful talent you have.
A better web site that yours would be hard to find. Say hello to Sharon too.

26 February 2009 - Up the road a bit, under the gum trees