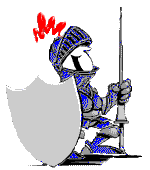 Add a message : Dark Blue Knight
There are now 712 messages in our guestbook.
<<< 1 9 10 11 12 13 14 15 16 17 18 19 20 21 22 23 24 25 26 27 28 29 48 >>>
Viewing messages 271 to 285.

Sandy | E-Mail
I'm so glad to hear your Grandson is doing so much better and out of the hospital.Just want you to know I really enjoy your newsletter.I will continue to pray for your Grandson.Keep up the good work.Sandy

23 July 2008 - Las Vegas,NV

Joan | E-Mail | Web Site
Hi Eddie just me to let you know I'm enjoying your poem. Alone is so cute. Live by the Spirit is so true. Thanks sweetie for sharing all your writing with us. God Bless you With Love Joan

23 July 2008

Judy | E-Mail | Web Site
Oh my gosh you had me laughing at the throne poem and the best I have felt since my site went down last week and still laughing when I think of it. But the serious side I love I Promise and all your poems I read just so beautiful and what a talent you have my friend. Thank you so much for the mail when I lost my site and was much appreciated but all back up and running so feel much better. You tug at the heart, put tears in the eyes and laughter to the soul and what a great site you have. God bless. Hugs Judy

22 July 2008 - NY

Bobbi Hutchings | E-Mail | Web Site
I enjoy your site very much.

21 July 2008 - Calera, OK 74730

Survivor69 | E-Mail | Web Site
What a site!

2 July 2008 - South Carolina, USA

DANIEL DEVORE | E-Mail
I HAVE JUST BEGUN TO SEARCH YOUR SITE AND I VERY MUCH LIKE WHAT I HAVE SEEN SO FAR. I AM SURE THAT YOU WILL BE HEARING FROM ME AGAIN.

27 June 2008 - LEXINGTON, ILLINOIS - USA

Sunshine aka Dot | E-Mail | Web Site
I am amazed at your talent Eddie, your poem " Were you There" was really something. I loved reading all of them of course but especially the new ones. It will be great to hear " Were You there" sung. I hope you don't have any more times when you wake up feeling blue. I really think you have excelled yourself this time. Thanks for sharing.

24 June 2008 - Sunny Queensland Australia

Mikki | E-Mail | Web Site
Hi Eddie,
I have enjoyed your site and reading your very good poems. I will be back to read more of them. Please visit when you get the time.
Mikki

18 June 2008 - Baltimore, Ohio

Andrea/Kentucky_Lady4 | E-Mail | Web Site
Hello Eddie,
I have had a most enjoyable visit. Loved each page!! "Were You There" was so touching, and "A Wealthy Man" is so very true.. "So Many Years" is a touching one, as many babies as well as young children pass before they truly have a life.. but, all is in God's plan, so we don't question it. All of the pages were just so meaningful, with lovely music as well as beautiful settings! I always leave here feeling better than when I came in, and the inspiring words are just so touching. A great visit, my friend..
God bless!!

18 June 2008 - KY, USA

Melva | E-Mail | Web Site
Hi Eddie,
Thank you for a wonderful update as it always is...Your poetry is always thought provoking to me...
Like "A Wealthy Man"....I think our friendship is the best gift we can give to another....A friendship with Jesus at the core is the best there is....
"Teach Me" is what we all want to be, open to God and learn what He has for us daily...
It will be nice to hear Sandy's song with your poem "Were You There"....I really liked your graphics for that page too...
Eddie your poetry was like hearing from heaven, and I feel refreshed, Thank you...
God bless you and keep you close is my prayer...
Melva

17 June 2008 - USA

Judy | E-Mail | Web Site
Your site is a beautiful as I remember it when I visited before I got so sick Eddie and so much more on it now. I surely did bookmark it again and also the webset part as will be back to use some of your great backgrounds as I get my site up and running again. Thank you so much for stopping in to see me and word is just getting around that I am back on the net and you just happen to read the right entry to find me again lol. Now your first name is special as my hubby is names that also and holds a special place in my heart. I remember that was the name his mom called him all the time was Eddie and if she said Ed he knew he was in trouble then lol. Have a great day and did sign up for your new updates and will be looking forward to them coming. Love you poems, stories and all on your site. God bless and have a great day until we chat again. Hugs Judy

17 June 2008 - NY

Gayle | E-Mail | Web Site
Hello my friend, I have enjoyed the most wonderfully written poetry in your latest update. You do have a rare talent and can touch hearts and bring smiles through your incredible work. It was grand to be able to browse around your site and take my time catching up on your poems. I always leave feeling enriched by the many different views and ways you express your thoughts. You can write about any subject and put such feeling into your words. It has been a long time since I was able to just take my time and go from page to page and I have certainly enjoyed my visit very much. God bless you and yours.

17 June 2008 - USA

Wanda Barton | E-Mail | Web Site
Thank you again, Dear Friend, for sharing your inspirational poetry! It's always such a blessing to visit your home on the web.

16 June 2008 - London, Kentucky - USA

Joyce Ann Geyer | E-Mail | Web Site
Hi Eddie: Wow! You certainly can write about anything, and everything!
A Whealthy Man, was so very well written, and touched home with me.
~No one can be a loner
Keeping all unto oneself
For when all is said and done
Experience is lifeís wealth~

So Many Years, I've often wondered why The Good Lord took my parents so young, realizing "Thy Will Be Done." Not to question God! Your words are so true...
I guess itís time to give my thanks
And ensure my thoughts are told
The thoughts of praise to God above
For my life worth more than gold~
Isn't is amazing that as we age we do realize the material things of this world mean nothing! At least I got it, and don't care what they do with my things when i'm gone.
Eddie...reading this book "90 Minutes In Heaven," is awesome. Then my friend told me she was reasing "26 minutes In Hell." We all have that choice to make.
"Teach Me," I am still learning, and what Jesus went through no man could have ever done that. I Love The Lord and ask him daily to guide my way.
As for all the rest of your wonderful poetry you really do share what you have learned, and explain it such a good way!
God Bless You Dear Friend, and please send my Love to Sharon...the love of your life.



16 June 2008 - West Seneca, NY USA
SAMANTHA | E-Mail
A friend sent your poem "A Wealthy Man" to me.

I enjoyed it very much, viewed your pages and found them very interesting.

Have you ever been to the United States?

Good luck my friend in all you endeavor to do.

16 June 2008 - OHIO USA
<<< 1 9 10 11 12 13 14 15 16 17 18 19 20 21 22 23 24 25 26 27 28 29 48 >>>