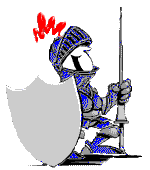 Add a message : Dark Blue Knight
There are now 712 messages in our guestbook.
<<< 1 7 8 9 10 11 12 13 14 15 16 17 18 19 20 21 22 23 24 25 26 27 48 >>>
Viewing messages 241 to 255.

Dot | E-Mail | Web Site
Thanks for the updates again, I am sorry Coen is still sick, the poor baby, such a concern for you all, especially his parents. I'll keep on keeping you all in my prayers. Loved the poems especially " Remember The Story" and the one about Your mad mate. Liked the one about writers block too, that's just called " old age" he he. Say hello to Sharon for me.

29 August 2008 - somewhere in sunny Queensland

Moonlightflower | E-Mail | Web Site
Thank you so very much for We Don't Need Another Hero. This is an Excellent Poem, Eddie.

26 August 2008 - somewhere in southeast Texas dodging hurricanes

Fjola Roberts | E-Mail
We Don,t need any More heros was absoutley beautiful.Keep up the good work. I love your site.

26 August 2008 - Canada

Gianna | E-Mail | Web Site
Hello Eddie
Your poems are always such an inspiration especially when in need of comfort. No matter how many times I visit your site there is always something wondrous I find so for that I thank you.
Please know that I always remember your precious Grandson Coen in my prayers.
God Bless.

26 August 2008 - On_Can
Judy | E-Mail | Web Site
Eddie you always amaze me with your beautiful poems how the words just seem to flow together. Now the one on writers block is hard to believe with all I read just now lol but do know what you are talking about as have it quite often. With me I call it old age rofl! Beautiful poems and so hard to pick a favorite but every time I see one on the crucifixion of our Lord it tears at my heart so. All the rest were beautiful also and the love one was just great and loved it. Been a while since I stopped in again to see you but I am still here and just get too busy somedays and have to learn to slow down I guess and smell the roses. Have a great day and God bless my friend. Judy

26 August 2008
Juanita | E-Mail
Very pretty poetry Thank you for writing them and letting your words express our thoughts to loved ones things we could not say without your pretty words

26 August 2008
Gayle | E-Mail | Web Site
Hello Eddie, Great to be able to spend time with the Dark Blue Knight's words of love and wisdom. I had a lot of catching up to do but it has been one morning well spent. I love all of your poetry and had to go back again to Falling Petals. Still the most beautiful poem to me. Thank you for the words that touch my heart as I read of Jesus and His love for us. Sure will brighten a dark day and give hope when it seems there is none to be found. Precious love of your family shared with others in wonderful poetic words. I have sure enjoyed the start to my day. Keep the ink flowing my friend so we can always come back to your place to be greted with your wonderful work.

26 August 2008 - USA
Sharon/Partridgelady | E-Mail | Web Site
Hi, Eddie, I've just read your current update and first I would like to offer my prayers for your grandson. I do hope they find what is wrong and are able to "fix" it right up straight away. It must be so hard to go through life with that sorrow. I am thankful to God that so far my little grandkids are in great shape. I say little, when 3 of them are now as tall or taller than I. Smiles.
I love all of your poems today, Eddie. I am particularly drawn to "We Don't Need Another Hero", very fine writing, but then all your writing is special indeed. I also liked "On My Way" and "My Mate", each I could just relate to strongly. Having had our house struck by lightening a few years back, I could almost feel that fear reading "The Storm", so realistic but is that not the goal or our writing, to actually feel what the author writes? "Sealed With a Kiss" tickled me and was extra special as Dean's and my anniversary (45th) was Sunday, so we're still feeling romantic. Sigh. "Writer's Block" touched me, and may I say encouraged me to get busy and write again. It seems like the summer has been a writer's block for me, I have not written since end of May when I got struck with a little medical/physical problem of my own and have been rather consumed with this concern. I think all is getting better now.
But "Remember the Story" just moved me in a special way, Eddie, it is just wonderful work and I so love your main picture on this work, it's like a reminder of all that our Saviour did for us, to save us. I was really touched by this work. I thank you, from the bottom of my heart that you share your work with us. Hugs, Sharon

26 August 2008 - USA, NW MI
Melva | E-Mail | Web Site
Hi Eddie,
Hopefully they will have a diagnosis for you soon about Coen...I know that has to be a burden every day...Please know that your friends are praying for all of you, as well as Coen, and will continue to do so...
So you are moving into summer, while we are leaving it behind...Seems each season that comes I am ready for it...They are saying we will have a colder winter this year than we've had in a long time...We will just have to wait and see about that...
You have sent wonderful poetry and "We Don't Need Another Hero" is among your best ever...Everyone that defends our rights in any way is a hero in my eyes...I thank God for them, imagine where we'd be without our heroes!
"On My Way' is a good testimony poem Eddie, and hopefully will win lost souls for the kingdom!
And another sweet 'Love Poem' I love those and this one is beautiful!
"Writer's Block" was very cleverly written...And a place where all poet's have been...
Well I believe I spoke to soon about 'your best' poem cause I've not read a more meaningful poem than "Remember The Story" that one tells the way of the cross perfectly...
"My Mate" is a wonderful poem of friendship.... "The Storm" is what is happening along the Atlantic coast and inland right now, please keep them in your prayers...We have many mutual friends who are in the midst of the 'storms', and need our prayers for protection...
Thank you again for a wonderful update, and as always thank you most of all for your friendship which I treasure...
God bless,
Melva

26 August 2008 - Ca.
Rose Ann Klink | E-Mail | Web Site
Really appreciated your story.

23 August 2008 - Vacaville, California
Betty Burdette | E-Mail
And The Heavens Opened is so beautiful. I have walked with you in this poem. God Bless You Eddie,
and thank you so much for bringing the light of our Lord into my heart thru this one.

16 August 2008 - USA
Shy | E-Mail | Web Site
Dear Eddie,
Surprise, surprise, I finally made it back to visit your beautiful site and have read all your latest poems. As always they are just wonderful and share a message in each one that touches my heart and make me think.
I am glad that things are settling down for you and your family and that Coen is home and improving. A sick grandchild can surely pull at us grandparents heartstrings and cause us to love them more than we thought possible. God in His infinite mercy and love for us is just so very AWESOME and we would be so lost in more than one way without Him. I just Praise Him for healing Coen and all who need Him so much.

Thank you for sharing your wonderful update and although I don't get to your guestbook as often as I would like, I do love your website so much and I appreciate and cherish the sweet friendship that we have. Give Sharon my best and take care,

God bless you and yours, Shy

16 August 2008 - North Carolina USA
Shy | E-Mail | Web Site
Dear Eddie,
Surprise, surprise, I finally made it back to visit your beautiful site and have read all your latest poems. As always they are just wonderful and share a message in each one that touches my heart and make me think.
I am glad that things are settling down for you and your family and that Coen is home and improving. A sick grandchild can surely pull at us grandparents heartstrings and cause us to love them more than we thought possible. God in His infinite mercy and love for us is just so very AWESOME and we would be so lost in more than one way without Him. I just Praise Him for healing Coen and all who need Him so much.

Thank you for sharing your wonderful update and although I don't get to your guestbook as often as I would like, I do love your website so much and I appreciate and cherish the sweet friendship that we have. Give Sharon my best and take care,

God bless you and yours, Shy

16 August 2008 - North Carolina USA
Nancy | E-Mail | Web Site
Dearest Eddie,You've done a superb job of the poems this month."Remember Me" is so thought provoking.  Loved all the poems.

15 August 2008 - Lubbock, Tx USA
Joe Crookshanks | E-Mail
Found this sie while visiting"Carolyn's Precious Memories

10 August 2008 - State of Delaware--USA
<<< 1 7 8 9 10 11 12 13 14 15 16 17 18 19 20 21 22 23 24 25 26 27 48 >>>