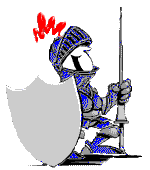 Add a message : Dark Blue Knight
There are now 712 messages in our guestbook.
<<< 1 4 5 6 7 8 9 10 11 12 13 14 15 16 17 18 19 20 21 22 23 24 48 >>>
Viewing messages 196 to 210.

Gayle | E-Mail | Web Site
Hello Eddie, I have just been reading the latest update and all the poems are wonderful. You are very talented and know how to say things so they will grab your heart. Your love for your lovely wife just shows in each love poem you write to her. You are a very blessed man to have someone to love that much. God bless you for expressing it in such a grand way. I loved all of the poems, especially I Am With You Always. How great to know that He is there with us all the time. Not a fair weather friend but a loving Lord that cares for us so much. Wonderful pages my friend. the graphics match the words and music. Beautiful pages you make and I thank you for the ones you allow us to use on An Hour With You also. Keep the writing going for I would miss a lot if I could not come by and read your poetry. God bless always.

11 November 2008 - USA

Shy | E-Mail | Web Site
Dear Eddie,
What a wonderful group of poems in your latest update. I enjoyed them all and was inspired and uplifted in my spirit as well. You have a true gift of
taking a thought and expounding on it so beautifully.

Your linkware is great and your choice of music. Thank you for sharing with me. I know that I am slow at times about getting back to you. I look forward to each and every update you send out.

Thanks too for the update on Coen, I just feel that the Lord is going to do a major healing in this sweet baby.
After watching all that our Taylor went through and survived makes me a true believer in divine healing and miracles too.

Give my best to Sharon, Take care until next time,
Your Friend in Christ, Shy





11 November 2008 - North Carolina USA
Brad Epperson | E-Mail
Greeting from Arkansas Loved your page Eddie I really enjoyed the visit. I have a bother who Is in Law enforcement and was in the Army. keep up the work Brad

11 November 2008 - Arkansas USA
Sondra McPherson | E-Mail | Web Site
Hello Eddie,
Oh beautiful Pages and wonderful Poems!!! I don't
remember when I've read so many touching love
stories and all written from your heart to your loving
wife. They're absolutely wonderful!!! I had more time
today and I truly enjoyed it, reading some several times and even some older poems. Let me name
just a few, Soul Mates and Seeds Of Love, Sealed With A Kiss, Across The Bridge, Only in My Heart,
and In The Moonlight. Oh my goodness, I loved all
of them!!!
I too loved By Flowers And Candlelight, very sweet and
romantic I must say. Also Loving You and A Simple Ring, very sweet!!! Lovelies you've written for your
loving Sharon, truly expressing your heart and soul,
your love for her. How wonderful for a man to do!
Beautiful words in everyone of them.
And I too always enjoy your special words for our Lord,
I Am Always With You and Show Me Your Love, so
preciously written holding heartfelt meanings for all.
You do have a way of saying things that reach out touching people's hearts. Well, I surely have enjoyed
my evening tonight, thank you so much. All the Pages
are beautifully Designed by you too.
I am praying for little Coen, his important surgery to be
in God's Hands. I know He is taking care of every detail
and He will bring it to pass in His Timing and Will for him. God's Blessings to you and yours my dear friend,
Sondra

10 November 2008 - Indiana USA
Dot | E-Mail | Web Site
Great lot of poems Eddie, loved em all and very pleased to see lots of newies. Great web sets, great music, great all. Thanks for sharing.

10 November 2008 - Not far away
Sue White | E-Mail | Web Site
I really enjoyed your site. I to fight child abuse. Many years ago I put my first granddaughters father in jail for 15 years for molesting her. I get really upset when I hear of a child being abused in any way. Thank you for doing this.

9 November 2008 - Enon, Ohio
Carolyn | E-Mail | Web Site
Hi Eddie,
Your writings seem to just flow from your heart. It is like sitting down and talking to you in person. I enjoyed each poem today, and began last night reading them all. From My Pencil to Crossroads, my heart was so touched by every word. Can I also say that these poems today made me feel so good, and all made me feel happy. You always write such pretty words to your wife and that is so wonderful.
I also want to let you know that I continue to pray for your beautiful grandson Coen. I pray that the surgery will be soon. And it will make a way for Coen to eat and hold down food.
Thank You Eddie for adding my 50s section on your updates page. You are always helping someone, and I thank you so much.
I hope your wife and all have a fun time on their cruise.
And that you can enjoy what you are doing.
God Bless You Always
Thank You for your friendship
Carolyn

8 November 2008 - Fresno, Ca
karen | E-Mail | Web Site
Dear Eddie,
Unceasing prayer continues for Coen, such a precious little child, I'm sorry to hear that his surgery had to be postponed, but surely Our Lord knows the right time and place for this surgery to be a total success. Trusting in His Perfect Timing and His Promise to make all things good for those who Love the Lord.
Your pages as always, are beautiful! I love the poems you write for Sharon, and how willing you are to let your LOVE show thriough every loving word!!!!
Your poems from the Lord seem to come right from God's Voice to your pen!!! Always they inspire and uplift!!!
I'm loving this precious time with my grandkids, but whew~~~~they can wear a grandma out!!!! I'm holding on to them with all my strength, so I can savour memories long after I"m back in the cold winter of Iowa.
God Bless and remember......................
U R Loved

7 November 2008 - California!!!!!!!
Janice Stodola | E-Mail | Web Site
I just read your poem, " The Pencil", and wanted to let you know how lovely it is. Your words really ring so true, it touched my heart, thank you.

7 November 2008 - USA,Kansas
Rose White | E-Mail
Awsome site you have here I have been back before and Love it !!! Keep up the Good Work You Do !! It's noticed , Wow what a Journey God has sent me on!!! Just can hardly wait to see what's around the corner !! God's grace be with you , take care , I will be back !!Rose


3 November 2008 - Stratford Ontario Canada
Fran Summers | E-Mail
Just found you and love it !

2 November 2008 - United States Arkansas.....Bill Clinton territory
K-RUN | E-Mail
Great Site.

I enjoy it a lot, keep up the good work.

31 October 2008 - Florida, USA
Bernice | E-Mail | Web Site
Hi my good friend Eddie: I'm just stopping by to say hello and wish you and your family all the best. You have such a great site and your poetry is so inspiring and uplifting keep up the great work as we continue to share Jesus with family and friends. May God richly bless you and your family.. all because of Calvary, Bernice

28 October 2008 - Canada
Shy | E-Mail | Web Site
Dear Eddie,
Well, friend, I finally made it back to your wonderful website that God has so graciously blessed you with.
It is also a blessing to me and all who come here.

I wanted to tell you how much I enjoyed your poem,"Hungry", boy does that ever ring true with me many times over. I enjoyed all of your latest poems and look forward to many more visits with you.

My prayers continue to be with you and your family,
Take care and God bless you,
Yours in Christ love, Shy

26 October 2008 - North Carolina USA
Pearl DeFreese | E-Mail
Great website. I accidently found it, but I'll use it again. Thanks.

23 October 2008 - Ruston, LA
<<< 1 4 5 6 7 8 9 10 11 12 13 14 15 16 17 18 19 20 21 22 23 24 48 >>>